---
Been grinning ever since! - T - 06-28-2009 04:23 PM

Yo, today was my first day of baking a pound cake after having the learning curve blown away yesterday by Matt. The cat is a super teacher of the art of pot cooking. I had never baked a thing in one until yesterday's bread, he then told Brian and myself your ready now, well along with his blessings I went shopping today for the goods for a pound cakes ingredients. As I was shopping Jim Monihan called and we both cracked up, yo Jim check it out! I remembered everything that Matt taught us just as if he was standing there. The results of my first bake are below and I guarantee it will not be my last. Thanks again Matt!

In little area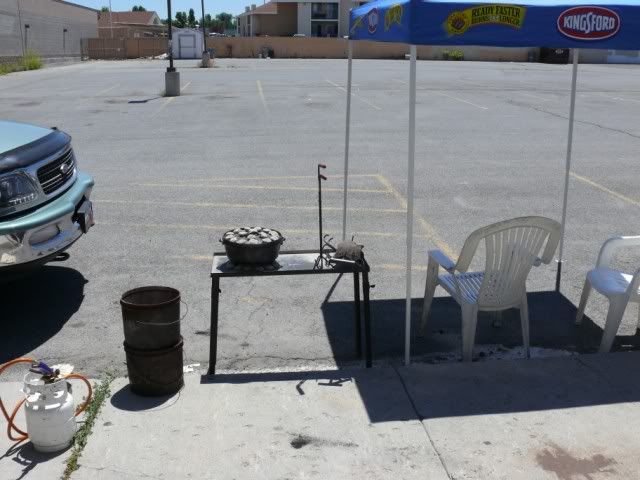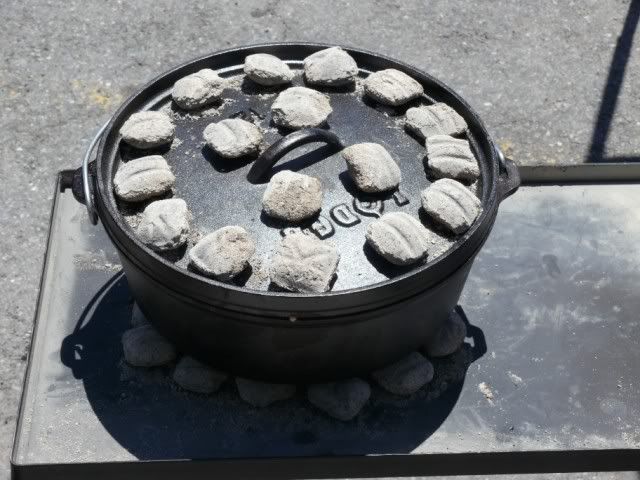 Ready



Boy I had a smile on my face like I got hit in the mouth with an ax!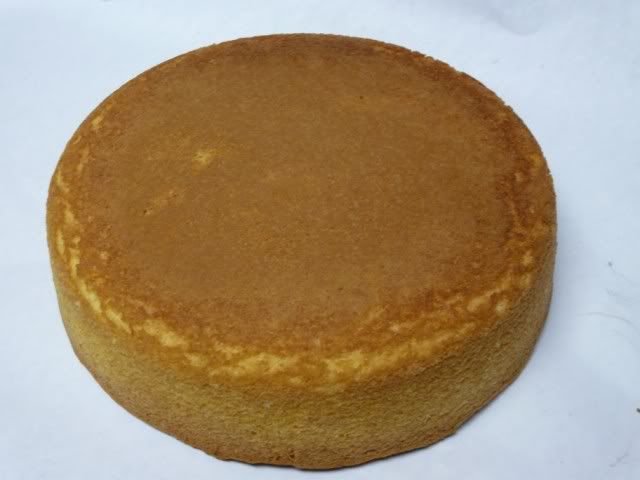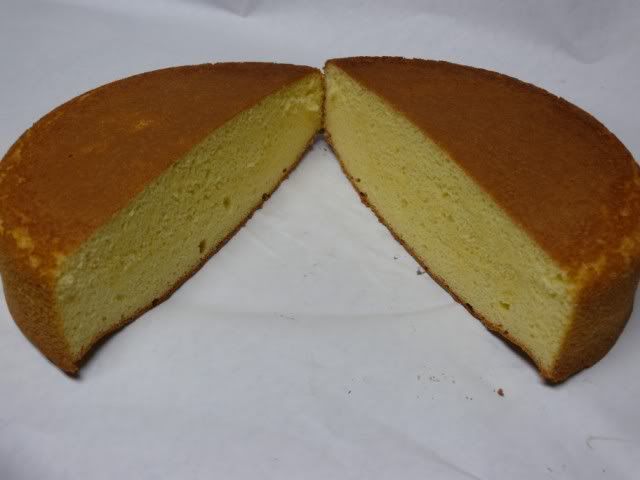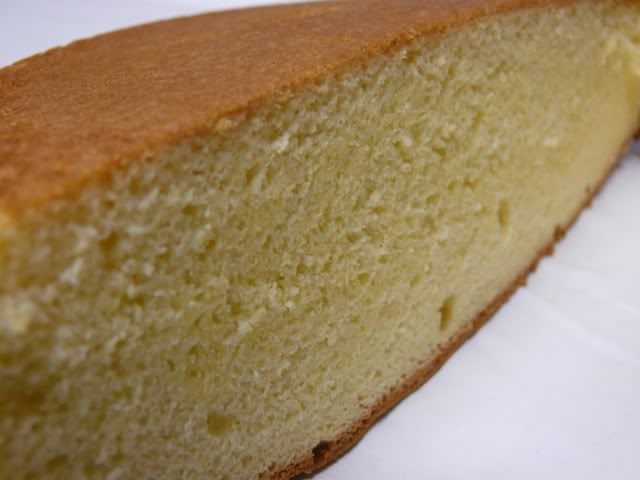 Darn that's good!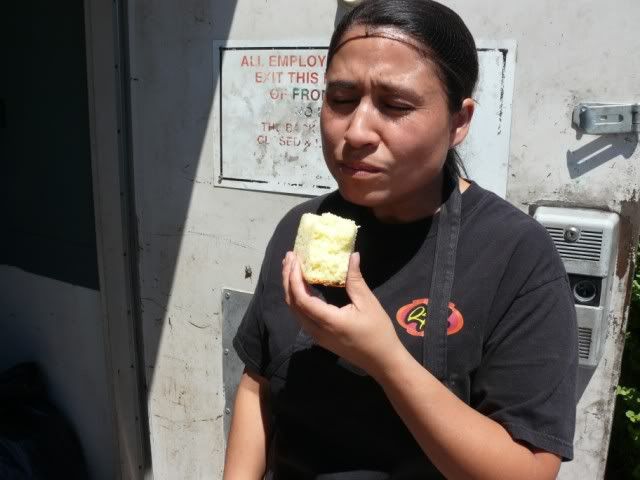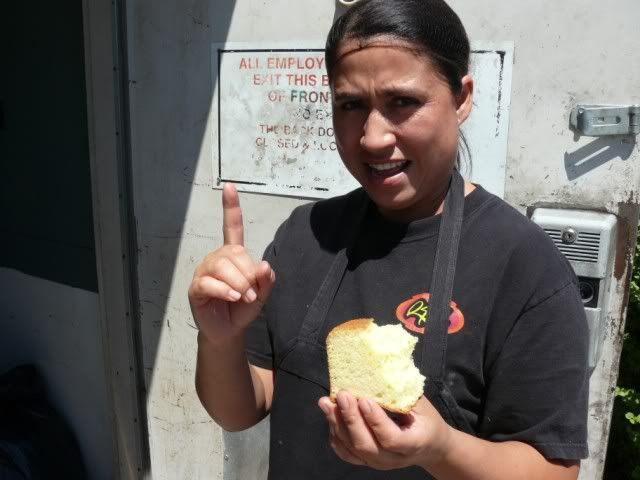 A little strawberry's and our homemade rum sauce.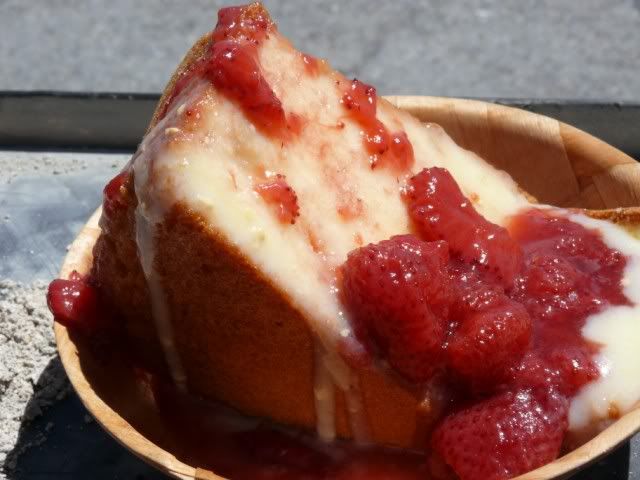 Cris (Soezzy) came by and slammed a piece sorry I didn't even have a chance to get a picture of it, but it did happen.


---
- Nuetz - 06-28-2009 04:30 PM

looks very good wehn u gonna make me up some huh (ps this is rob)


---
- DOBBQ - 06-28-2009 05:22 PM

Very nice work T!
Some say that cakes and pastries are the hardest to be successful at, looks like a "cake walk in the park" for you...Pun intended.


---
- SoEzzy - 06-28-2009 05:56 PM

It was the best pound cake I've eaten, though I didn't take a picture of me eating it, so perhaps it never happened.


---
Re: Been grinning ever since! - Arlie Bragg - 06-28-2009 06:44 PM

Hope you are sending me a slice of that?

Arlie


---
- Guest - 06-28-2009 09:27 PM

What is the book that Matt wrote! I am thinking some home made ice cream, strawberries and dutch oven pound cake!

Soezzy, I am sure you didn't eat any if you don't have pictures.

Stoneman


---
Re: Been grinning ever since! - Grill Sargent - 06-28-2009 10:07 PM

T.....does this mean you are going to pass on the knowledge..... :wink: .....from the look of the bread and now that cake.....mmmmmmmmm......and we have ice cream and bananas....what a combination that would make.....


---
Re: Been grinning ever since! - Phred - 06-28-2009 10:45 PM

Awesome T, looks wonderful. Welcome to the world of dutch oven cooking, I'm sure you will find it's a lot of fun.

Phred


---
- Dutchovendude - 06-29-2009 08:08 AM

T, Looks great! I hope you will be bringing this to our potlucks!
Mike


---
Re: Been grinning ever since! - T - 06-29-2009 08:50 AM

Yo, have always wanted to bake in the dutch oven, but never ran into the right teacher. Everyone in the past tried to make it sound like you had to be a rocked scientist to do it except for Gene and Brenda who offered, but we got rained out on the weekend that we had planned last year. I took a basic class where I learned to use the cake mix out of a box and dump the cherries out ect, but to me there was no challenge. I was asked why did I wait so long, well it has been my experience that there are teachers, and there are teachers if you know what I mean. Matt has a style that makes you comfortable from jump, and his secret tips are word. Today I will do some Jalapeno corn bread that I have been wanting to do in a dutch oven for awhile. A pot of pinto beans were cooked yesterday. I can't wait to partner the corn bread with what I think is some stopping chili. I will make the cake at the next pot luck Mike. As you can tell I am excited about my new found area in cooking and most of all I can honestly represent my sponsors Camp Chef with there products. As Brian said he was some what intimidated by the thought of it and truthfully I in some ways was there as well, jump out there and go for it, sure I'll help ya. Have a great day


---
Re: Been grinning ever since! - Guest - 06-29-2009 10:36 AM

That is some seriously fine lookin' cake, T! It looks like it came straight out of a cake pan. Good on ya!

John


---
Re: Been grinning ever since! - Three4Que - 06-29-2009 11:54 AM

T are ya going to start teaching Dutch Oven classes as well? Man both the cake and bread looked great!!!


---
Re: Been grinning ever since! - T - 06-29-2009 02:54 PM

Yo, as I said today I was going to try a Jalapeno corn bread recipe that I've had for awhile. I also said that I was going to eat it with the pinto beans, well the boss had a change in plans for me as you will see. Once again the cook was great and I have continued grin on my face. I read once in Sunset Magazine about six years ago when they interviewed a champion dutch over cook and she said when you don't burn the bottom of the bread your there, so that has been my goal. As in BBQ I cook to satisfy myself, me against the meat, now it's me against the bread LOL! I someone wants the recipe PM me and I'll be glad to share it?

This is the very beginning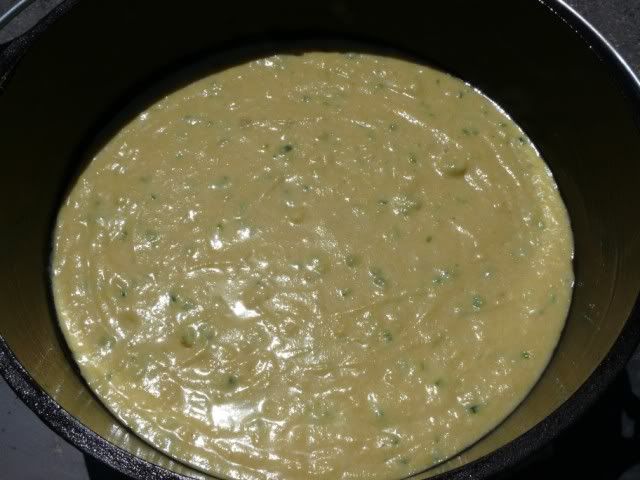 This bad boy is ready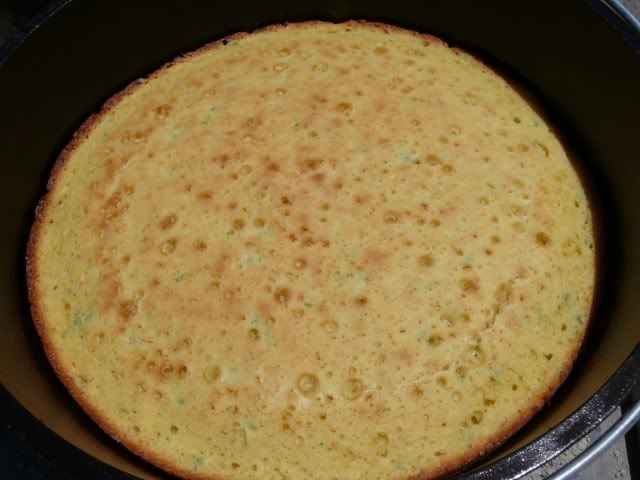 Just like I was taught to do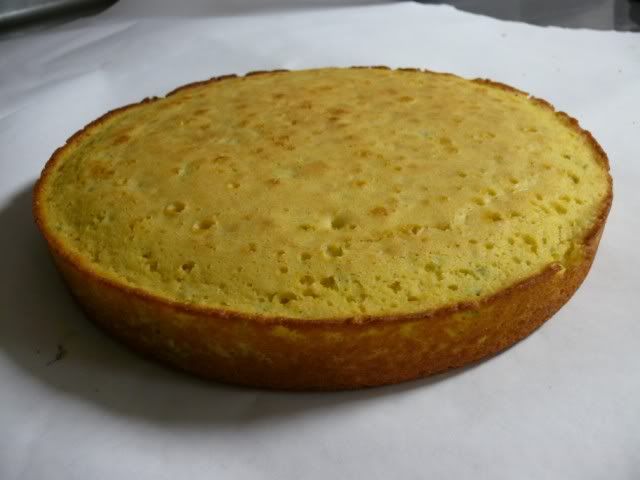 Here is a little butter with honey and lime zest to spread on the corn bread yum, yum. Didn't really go with pinto beans anyway.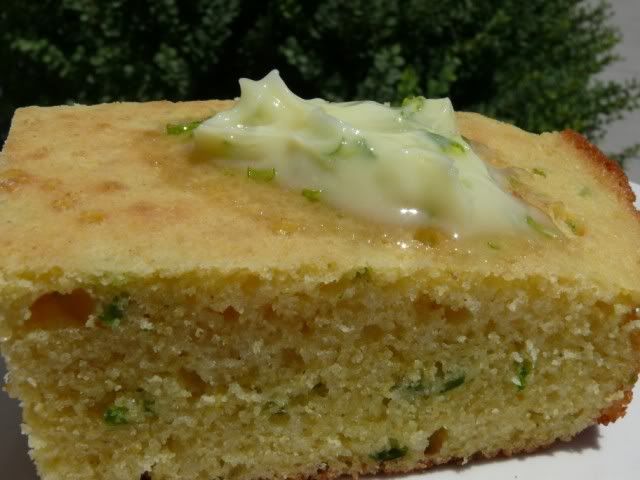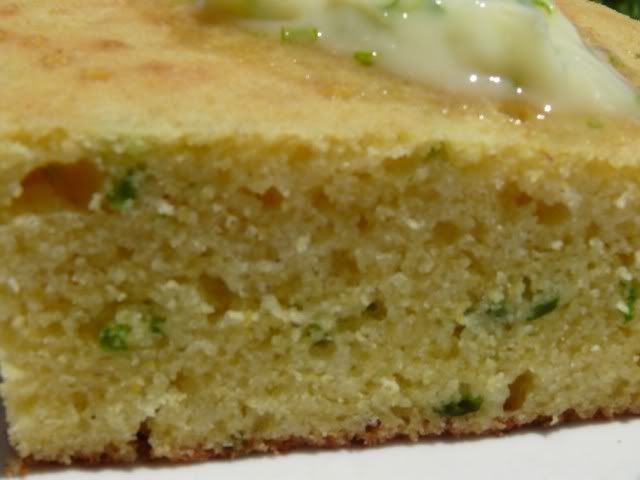 The boss fixed real garlic mashed potatoes topped with rich brown gravy and meat loaf for lunch today.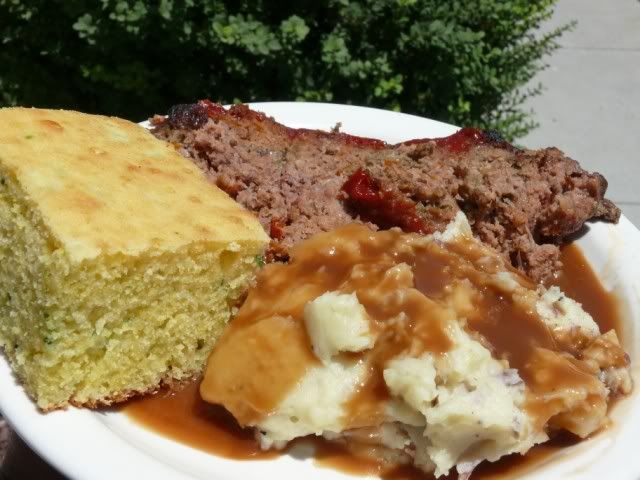 When It's said and done, the pinto beans can wait. Everyone have a great week. Thanks again Matt.


---
Re: Been grinning ever since! - Arlie Bragg - 06-29-2009 03:43 PM

I want it, I have a DO 14 and want to try it this weekend, did you do it with charcoal or propane. Thanks you best friend AQ


---
- Guest - 06-29-2009 03:47 PM

I think I know why she x-ed the beans on you!

Stoneman


---
Re: Been grinning ever since! - sampson - 06-29-2009 05:17 PM

You know pics like that on this site are one of the reasons I'm so danged fat! I'm starving after looking at that...


---
Re: Been grinning ever since! - Gene - 06-29-2009 06:04 PM

Yo Arlie, is your D.O. one of those South Pittsburg made ones?
That's in Tennessee, not Pennsylvania or China folks. From the looks of it I'd venture T did it in a 12" oven. Just increase the ingredients by 1/2. Technique is the same. If I was doing it on a table like his, I'd do 8-9 Kingsford coals under the 14" pot in a circle just under the bottom and ring the outer edge of the lid with charcoal, and with your lower elevation slide about 4 of the ones on the lid toward the center. Out here in Gods country @ 4500' I'd put 8 under and probably 20 on the lid. Elevation slows cooking down somewhat. That's shooting for about 400 degrees. Now here is the most important part, imho. About every 10 minutes or so, turn the lid 1/4 turn either cw or ccw, and then the whole oven 1/4 the turn same direction. This will keep any hot spots from getting the breads to dark. AKA burning :x


---
Re: Been grinning ever since! - tex-mex / Idaho - 06-29-2009 09:25 PM

I never worry about rotating the pot as it is cooking, just set mt coals and leave it alone............

omar


---
Re: Been grinning ever since! - Cyclops - 06-29-2009 11:23 PM

1st. solo effort! Golden honey brown all over! No hint of char! I detect a tad of that famous bread pudding glaze in those strawberries. Holy Smokolas! That looks just like heaven! And the cornbread? Doggone it! Is there anything you can't do?
The downside of this little venture is that you are gonna be one busy little bee at the next pot luck! Pound cake, cornbread, AND those potatoes? Great job brother!


---
Re: Been grinning ever since! - Brian - 06-30-2009 10:19 AM

Just for those who are following this, Kingsford is not the only charcoal in the world. The bread we cooked on Saturday for our class was cooked on Rancher Charcoal and Matt commented that that these are some damn good coals. We did not mess with the lid or the pot at all. we just set it and forgot it like George Foreman and the pellet pooper cooks.

It ain't rocket science


---
Re: Been grinning ever since! - Gene - 06-30-2009 10:34 AM

Well, that's great. I have

never

had a problem using the technique I described earlier. So I guess do what works for you. That is the way my mentor, the late Val Cowley, instructed his classes for 20+ years and like I said, it works for me. EOS


---
Re: Been grinning ever since! - The Cast Iron Chef-Chef M - 06-30-2009 08:35 PM

Well T, I have to say that I had a lot fun hanging out with y'all on Saturday. From the looks of things, you're getting it down pretty good. We'll have to do it again soon and invite some more folks who are interested in learning. Next time we can play around with some meat an dessert dishes in the black pots!


---
Dutch Oven cook out? - bbqguy123 - 07-09-2009 09:14 AM

Any plans for a Dutch Oven cook out in the back of Q4U? I got my pot ready and a lot easier to schlep then a 55 gal drum.

Sheldon


---